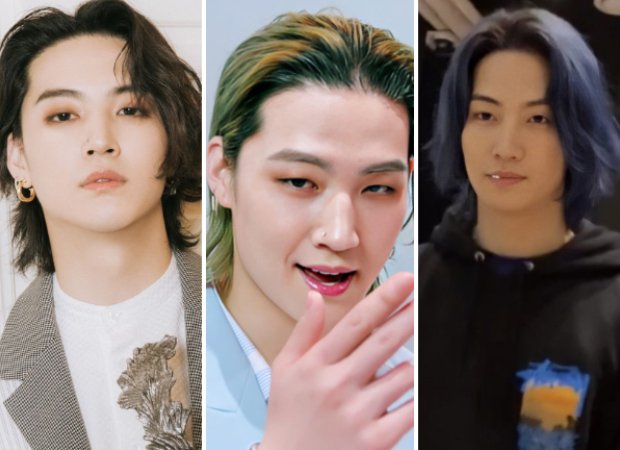 One of the most fascinating parts of the Korean music industry is how the artists love to experiment with their looks! Fashion and beauty are a very big part of the "idol" life and artists are very open to trying new things. Right before they dropped their new album 'Dye' in April 2020, K-pop group GOT7's leader Jaebeom had begun to grow out his hair. Technically, it started during the 'Call My Name' era but the 'Dye' era stays superior.
Jaebeom, who goes by the name JB on stage and Defsoul as a music producer, has often been experimental with looks. With a background of a B-Boy artist to becoming a singer-songwriting-producer, he has come a long way. With the new music era 'Dye', he went all out when it came to trying new looks – be it blue hair, blonde, green resembling that of The Joker, he has done it all and he looked so "FINE".
"I wanted to get out of that box of K-pop style. When you look at pictures of other guys, they usually have the same [stereotypical], two-block hairstyle (K-pop's take on an undercut). Because it's part of our jobs as idols to look impressive, I wanted something different — a new look with more texture. This is my own way of expressing that," Jaebeom said to Allure magazine when he was featured on the digital cover back in April.
Since he chopped off his beautiful long hair on Saturday, May 17, it reminded us of teen JB when he made his debut as the lead actor on the Korean teen series, Dream High 2. The reactions of the fans (IGOT7) were truly emotional – as JB's old look was back and then they already missed the raven black hair.
OMG NO Jaebeom's cut his gorgeous long hair. I'm crying his beautiful long hair is gone ???????????????????????????? but he looks so cute in the new haircut tho

©️def_nm pic.twitter.com/r5osJ5O025

— GOT7 Fanatic ☾ (@fanatic_got7_) May 16, 2020
rip to jaebeom's long hair. you served well. pic.twitter.com/SNwbRYn5y3

— ً (@ahgazones) May 16, 2020
you will be missed by everyone, jaebeom's long hair. may you rest in peace. pic.twitter.com/Q971JIwpny

— mariah ☾; yg&jb au ???? (@gyeomielicious) May 16, 2020
This look was literally my favorite Jaebeom look ever ????❤ pic.twitter.com/QGE21gXs3L

— GOT7 Fanatic ☾ (@fanatic_got7_) May 16, 2020
the long hair suited him so well ????❣️ pic.twitter.com/QE9GJUthsj

— GOT7 Fanatic ☾ (@fanatic_got7_) May 16, 2020
Without further adieu, let's relive the 'Dye' era and some of the iconic moments.
 

View this post on Instagram

 
 

View this post on Instagram

 
 

View this post on Instagram

 
Till we meet again, long hair JB!
GOT7 dropped their album 'Dye' on April 20 with the music video for the lead track 'Not By The Moon'.