On Indreshwar Mahadev temple this city named as Indore. In this temple God Indra is the presiding deity. About it one myth is also, Indra himself did Tapasya or meditation in this place cause of this, this place named as Indrapuri. Latter in Marathas/Holkar era it became Indoor and in Britishians era became Indore. Indore is situated at a hill its height from sea level is approx. 550Meters so climate of Indore is so much nice.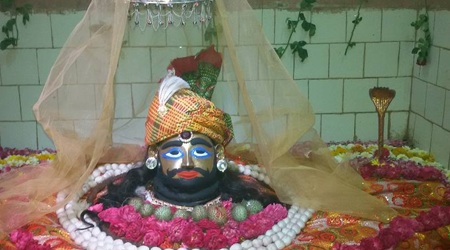 History of Indore
According to the records, Rao Nandlal Chaudhary who was the chief landlord or Zamindar in Mughal period established the city of Indore. Once he went to the Indreshwar temple which was on the bank of the river Saraswati or Khan. Where he felt the location is so much safe and protected by hills and rivers from every sides and he decided to do establish a new city and gave name to this city Indrapur. He made a fort here and latter Indrapur became Indore.
We can say present Indore city started to develop in Mughal period. After Mughals it has been controlled by Nizams and after them Marathas ruled on it. In Marathas Maratha Peshwa Baji Rao became ruler of Malwa region and he appointed Maharaja Malhar Rao Holkar as Governer of Indore region/State. This way he was the first ruler of Indore and founder of the Holkar dynasty also. His daughter in law Ahilyabai Holkar moved the capital of state to Maheshwar. But then also Indore remained an important commercial place. In period of Third Anglo-Maratha War Maratha were defeated the battle of Mahidpur by British at the time of this war again capital moved to Indore. But after this defeat also cause of some treaty Holkars remained ruler of Indore state.
Weather Conditions of Indore
Indore is located in Malwa Plateau and south of the Satpura Hills Range. There is a huge variation in the weather of the city. In summers means April to mid of June Indore is quite hot. The day temperature reaches approx 45ºC. Nights in Indore are usually cool cause of this feature people love Indore climate. The reason for the pleasant weather of Indore during night is the cool breeze and it is known as 'Shab-e-malwa' and it is no matters climate was how much hot might be during the day. But the nights are always cool.
In winters the weather is quite nice the temperature may reaches below 10ºC which makes the weather chilling cold especially in December and January month.
On an average we can say that the weather of the Malwa region is quite pleasant throughout the year. This is because the region gets a moderate rainfall, making the weather pleasing. In Rainy season from July to September and due to the South West Monsoon the maximum rainfall takes place in this period. In whole year Indore gets a average moderate rainfall of 30-35 inches (80cms). To see beauty of falls people come in this period. But most of the tourist visit Indore during the months of July to March which is best time to visit Indore.
Tourist Places and Sight Seeing Spots of Indore
Rajwada
Rajwada is the historical palace which is made by Holkars. It was built in 18th century. It is located near the Krishanpura Chhatris. It is a seven floor structure, which shows affection to art of Holkars. Rajwada is in the centre of the city and near the Chattris. Since Rajwada is located at centre of city cause of this near area became big market place of Indore. Sarafa Bazaar which is famous for gold and silver ornaments and Khajoori Market which is a big books market both are around the Rajwada.
Central Museum of Indore
One another name of Central Museum is Indore Museum also. It is one of the most interesting buildings in Indore. This place is a so much important for those people who have curiosity to know about development of civilization in India and how the civilization flourished in the pre historic era. Museum is located near the General Post Office (GPO) in Indore.
Chokhi Dhani of Indore
Chokhi Dhani and Nakhrali Dhani are two resorts on outer side of Indore. These resorts based on Rajasthani culture and heritage, Inside the resorts you feel atmosphere and culture of Rajasthani villages.
Nakhrali Dhani of Indore
Chokhi Dhani and Nakhrali Dhani are two resorts on outer side of Indore. These resorts based on Rajasthani culture and heritage, Inside the resorts you feel atmosphere and culture of Rajasthani villages.
Kaanch Mandir of Indore
The Kaanch Mandir is also another place to visit in Indore. Kaanch is a Hindi word and meaning in English it is glass. Walls, floor, ceiling, pillars and doors of temple is made by only glass that is why it's name is Kaanch Mandir or Kanch temple. It is made in early 20th century by Sir Hukamchand who was famous as "Cotton King". This temple is a temple of Jainism. Everyday so many tourists come to see it.
Chhatris of Indore
The Maratha rulers were fond of architectural work. Chattris of Indore are the best example of this thing. These Chattris are also known as Krishnapura Chattris. These chhattris are those cenotaphs which are made in the memory of the Holkar rulers. These memorials are made by stones and situated on the bank of the Khan River.
Lal Baag Palace of Indore
Lal Baagh Palace is that palace where Holkars used to live. This palace has three storey building and it is made between1886-1921 by Holkars.
Patalpani Waterfalls Near Indore
Patal pani is famous for beauty of its waterfalls and so much nice picnic and trekking spot this place is in Mhow a Tehsil of Indore district which is 30 kms far from Indore city. Most of the tourist comes to visit it in monsoon season. Pataal-Pani waterfalls make by Choral River.
Choral Dam Near Indore
Near Patal Pani there is one dam also on Choral river that is why its name Choral dam. It is also a nice picnic spot near Indore. This place is good for picnic and especially for boating. Good time to visit this place is whole year but in rainy season July to September beauty of this place is on peak.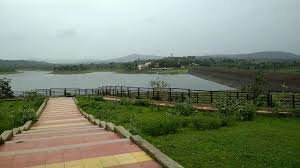 Ujjayaini Village Near Indore
Ujjayaini is a village which is 22Kms far from Indore city. This place is famous for confluence of Narmada and Shipra River. This is an artificial confluence not natural and this work is done by M.P. Government in 2015. In summer season most of the tourist comes because there are different ponds to bath for male and female.
Tincha Waterfall Near Indore
Tincha waterfall is in Simrol Tehsil of Indore district. These waterfalls near the Tincha village cause of this these are known as Tincha Falls. This place is famous for beauty of its waterfalls. It is 25kms far from Indore city. Amongst the tourists Tincha Falls is a famous monsoon destination because beauty of the falls blooms with the advent of rains!
Indore Religious Places
Indore is not only famous for natural picnic spots and historical monuments but also there are so many religious places of all religions of India like Hindu, Muslim, Buddhism, Jainism etc. Here are so many religious places which attract pilgrims from across the India. We are telling below about some of those.
Bijasen Tekri / Temple in Indore
Bijasen Tekri is a small temple of one of Hindu Godess Bijasen Mata. It is on top of a hill or tekri. It was built in 1920 and this place is very near to Indore Airport.
Annapurna Temple
Annapurna Mandir is a temple of Hindu Godess Annapurna which is so much popular temple in Indore. According to the Hindu mythology Annapurna Devi is the goddess of food. Goddess Parvati wife of Lord Shiva is known as Annpurna Devi. Hindus belief is this who does worship of her, can never be hungry. With main temple there are three more temple first second third of Lord Shiva, Hanuman and Kaalbhairav. This temple is a famous and important pilgrimage not only people of Indore but for tourists also. Architecturally this temple is resembles to the world famous Meenakshi Temple of Madurai in Tamil Nadu. Outside wall of the temple is decorated by images of Indian legendary characters.
Gomatgiri of Indore
Gomatgiri is a small religious place of Jainism. It is outer side of Indore but very near to Indore Airport. We can know here history of Jainism religion and there is so many statues of Jainism followers like Gomateshwar, Bahubali etc.
Khajrana Temple of Indore
Khajrana Temple is a so much famous temple of Hindu Lord Ganesha. People of Indore have great faith in Lord Ganesha. This temple was built by Ahilya Bai. Near the temple there is also a Dargah of Nahar Sayyed which is a religious place of Muslim community.
Bada Ganpati Temple
This place is also a big temple of Hindu Lord Ganesha or Ganpati because the idol of Lord Ganesha is so much high cause of this name of temple became Bada Ganpati. In Hindi meaning of Bada is big. Approx. height of idol is 25feet.
Top Places for Tourist Near By Indore
Not only inside Indore but near Indore also many adventures and tourist places. To see these places so many national and internationals tourists come every day.
Mandu
Before Mandu is known as Madhavgarh it is in Dhar district which is 90Kms far from Indore. We can reach Mandu by roadways only so Taxi and Bus are the best ways. This place is famous for love story of Raja Baaz Bahadur and Rani Roopmati. Mandu is famous for forts, historical structures and monuments. Rani Roopmati Pavilion, Baz Bahadur's Palace, Rewa Kund, Darya Khan's Tomb complex, Shri Mandavagarh Teerth, Jami Masjid, Hoshang Shah's Tomb, Jahaz Mahal/Ship Palace, Hindola Mahal, The Darwazas (Gates), Suicide Point and Sagar Talaab are the examples of these historic places.
Omkareshwar Temple
Omkareshwar is 90Kms far from Indore in Khargone district of M.P. Omkareshwar temple is temple of Lord Shiva and it is out of twelve one of the Jyotirlinga of lord Shiva which is worship by Hindus. Jyotirlinga has a high place in Hindu Mythology. This temple situated is on an island called Mandhata or Shivpuri in the Narmada River. People believe the shape of this island is like the  ॐ  symbol and Hindu pronounces it as OM. This word has great place in Hindu religion. Here are so many Hinduism and Jainism temple and this place is so much peaceful, cool and fully surrounded by greenery so to visit this nice place every day comes so many people of all religions not only Hindus and feel so much happy.
Ujjain
Ujjain is one of the ancient city of the India and Ujjain is 56 km far from Indore. Ujjain have a great place in ancient Indian history. According to Hindu mythology It is consider as one of the seven sacred places to get Moksha. Here is one more Jyotirlinga temple of Lord Shiva which named as Mahakaleshwar temple and located at the bank of Shipra River. To visit this temple everyday thousands of devotees come to Ujjain. Here are so many more temples of other Hindu deities. This city is a important place to pilgrims. We can reach Ujjain from Indore by roadways and railways easily.
Top hotels of Indore
Oyo Rooms Indore
Fab Hotels Indore
Radisson Blu Hotel Indore 5-star hotel
12, Ring Rd, Scheme 94, Indore, Madhya Pradesh 452010
WOW Hotel 5-star hotel
Plot No. 106 Scheme No. 54 PU – 3 Commercial, AB Rd, Indore, Madhya Pradesh 452010
Sheraton Grand Palace Indore 4-star hotel
Bypass Road, Omaxe City 1, Mayakhedi, Indore, Madhya Pradesh 452016
Patel club and resort hukmakhedi
Indore Bypass Rd, County Walk Twp, Indore, Madhya Pradesh 452012
Indore Marriott Hotel 5-star hotel
H-2, Scheme No 54, Meghdoot Garden, Vijay Nagar, Indore, Madhya Pradesh 452010
Sayaji Hotel Indore 5-star hotel
H/1 , Scheme No.54, Vijay Nagar, Indore, Madhya Pradesh 452010
Brilliant Convention Centre
Plot No. 5, Scheme No 78 – II, near Life Care Hospital, Scheme Number 78, Part II, Vijay Nagar, Indore, Madhya Pradesh 452010
Fairfield by Marriott Indore 4-star hotel
Plot No 18/C CA Scheme 94, Ring Rd, Indore, Madhya Pradesh 452010
Effotel Hotel Indore 4-star hotel
Plot No. 10, C/ C.A, Scheme No:94, Sec C, Scheme 94 Sector CA, Indore, Madhya Pradesh 452010
TGI Grand Nirvanaa 3-star hotel
MR-10, Nr.Over Bridge, Super Corridor Rd, Indore, Madhya Pradesh 452010
Pride Hotel & Convention Centre Indore 4-star hotel
35, 1, Bicholi Mardana, Indore, Madhya Pradesh 452016
Lemon Tree Hotel, Indore 3-star hotel
3, RNT Marg, South Tukoganj, Indore, Madhya Pradesh 452001
Hotel Amar Vilas
Chandra Nagar, Near Press Complex, A. B. Road, Indore
Amaltas International
3, A.B. Rd, R K Puram, Near Amaltas Hostel, Palasia 452001 Indore
Travel facilities
Indore is in the list of those top ten Smart City of India about their development Indian Government made a Policy "Smart City Mission", because of this Indore is developing very fast infrastructurally, this is also a one reason that travel facilities are so much nice for local and out of stations travel both, to travel local or out of indore city private taxis, ola, uber cabs and bikes are also available anytime.
Connectivity
Since Indore is well establish centre of trade from old time cause of this it is well connected to other places by roadways from old time only and now by railways also. It is very well connected to Ujjain by all manner which is one of most religious city of Hindus and as well as indore is well connected to Nagda and Bhopal from where we can get train for all Indian cities. There is one Airport which name is Devi Ahilya Bai Holkar Airport, from here we can get flight to all major cities of India.
Top tourist service provider
Sudeep Travels & holidays
Vinayak Empire, 9-10, Bhawarkua Main Rd, Professor Colony, Indore, Madhya Pradesh 452001
Crecent Travel International
Lg 4, Akashdeep Shopping Complex, 21, Snet Nagar, Snet Nagar, Indore, Madhya Pradesh 452001
SOTC For Holidays
Basant Vihaar, 29B Dharam Aangan G-1 Main Entrance, opp. Shanti Niketan, Vasant Vihar Colony, Indore, Madhya Pradesh 452010
Ocean Tripmakers
Rajani Bhawan, 201, Mahatma Gandhi Rd, Opposite High Court, Nehru Park 2, Shivaji Nagar, Indore, Madhya Pradesh 452001
Udhav Tour and Travels
143 Patnipura, Madhya Pradesh 452011
Bhate Travels
185, Tilak Path, Indore, Madhya Pradesh 452001
Feel India Tours & Travels Private Limited
Apollo Tower, 111, Mahatma Gandhi Rd, Indore, Madhya Pradesh 452001
Food Habbits
Hospitality by Indore people is famous all over India and Indore people are famous as foodie also, these are two main reasons we find so many types and varieties of food here and One more reason of this thing is , since indore comes in Malwa region and this region is surrounded by Gujrat, Maharashtra and Rajasthan so its cultured is so much influenced by Gujrati, Maharashtrian and Rajasthani culture and this thing increase the varieties of off foods, In Indore we get taste and varieties of food of Gujrati, Maharashtrian and Rajasthani food, Indore is famous for Poha, Jalebi,Dal Baati,Sabudana Khichdi,Samosa, Maal Pua, Kachori,Sandwich, Daal Bafle and Poran Polli as well as Indore is well known for Indori Sev and Namkeen.
What to shop
Indore is economic and commercial capital of Madhya Pradesh cause of this it is a big hub of trade and one other important thing it's well connected to Mumbai through roadways this is also a reason Indore became famous as Mini Mumbai. Indore is very famous for varieties and qualities of clothes so there are so many cloth markets, Indori Namkeen which is available in so many tastes and famous all over India, chanderi sarees which is prepare by ethnic zari work and very fine threads weave, handlooms items specially hand woven loom as sarees and unstiched suit salwar materials, handicrafts items as hand-crafted colorful bangles hand-made leather toys pen holder and many other handmade things and electronics items you can buy any type of electronic items from here at very affordable price after negotioaions.
Top market places
Indore having too many shopping markets you can visit.
MT Cloth Market
This market is known as Maharaja Tukoji Rao market also and this place is like a heaven for girls and ladies because here they get every type of new fashion ethnic and formal wears and cause of eye catchy designs of clothes these attract them so much. This market is specially for all type garments, Maheshwari, Chanderi and other varieties of sarees.
Sitlamata Bazaar
Sitlamata Bazaar is famous for retail shopping of clothes, this is one of old market of Indore so it is inside very narrow streets. To walk in these narrow streets and search clothes and do bargaining with shopkeepers provide a different type of experience of shopping which we can feel only. This market is specially for varieties of zari sarees.
Kothari Market
This is also a famous market of Indore for clothes here we can get different types of readymade and stitched garments and shoes.
Topkhana
Indore is very famous for handicrafts items and Topkhana market in Indore is one of those market where you can find amazing collection of handicrafts items. Handmade bangles, toys The wood-carved products, leather toys, mud idols, etc. are specialization of this market.
Bada and Chota Sarafa Market
This market is famous for gold silver and all other type of high quality jewellery. These jwellery have a different and unmatched design and this unmatched design is called Meenakari. These different type of design you will not get all over India.
Moolchand Market
This is an another market of Indore for garments but which is famous for kids readymade garments.
Siyaganj
Siyaganj is oldest market of Indore where traders used to come here in Holkars period. it is famous as Syaganj mandi also. It is a big market of all general things and food. This market is famous for paint, hardware , all types of oils, general usable things and all type of groceries items.
Jail Road
Jail road is an electronic and electrical market of Indore where we can get any type of electronic and electric item at affordable price but after bargain only. There are so many tailoring shop also for which this market is also famous.
Marothia Bazar
This market is famous for art and craft items.
Khajuri Bazar
This is a famous book market of Indore; here we can find so many options of books to buy. This place offers to us to buy unlimited varieties of books of every streams and types.
R.N.T. Marg
RNT is abbreviation of Rabindra Nath Tagore who is first Indian Noblest in literature, on RNT marg there is silver mall which is famous for all types new and old laptops, computers and software hardware parts of computers. Central Mall is also situated at RNT marg which is very good option to shop.